Skip to product information
Free shipping

Free shipping

Free shipping

Free shipping

Free shipping

Free shipping

Free shipping

Free shipping
3x products with Tea Tree Oil and Lemon Myrtle for dandruff and dry scalp
Shampoo, conditioner and scalp serum nourishes and cares for a dry, sore scalp, itch and dandruff | Tea Tree Oil counteracts bacteria and itch | Lemon Myrtle provides moisture and shine to you hair | Can be used for pimples on the scalp | For both men and women, and for all skin and hair-types | Vegan and dermatologically tested.
This kit for scalp care contains: Scalp Serum 150 ml, shampoo 250 ml and conditioner 250 ml in the Tea Tree Oil and Lemon Myrtle edition.
Read more
Sale price
£29.99
Regular price
£38.99
Unit price
per
✓ Fast Delivery

✓ Free shipping on orders above £29

✓ Dermatologically tested

✓ 100% Money back guarantee
Our dealers
View full details
Does your hair and scalp become oily too quickly? Are you tired of dandruff, or are you struggling with a dry and itchy scalp?

In that case you're not alone. 1 in 5 people are affected by scalp issues.

Scalp problems are often caused by an imbalance. The hair products with Lemon Myrtle and Tea Tree Oil helps recreate the healthy environment in the scalp, so that you can avoid a dry, itchy and irritated scalp.

How do I use the products in the kit?

The kit consists of 3 important products, which will help you care for an irritated scalp. In this kit you receive a scalp serum, a deeply cleansing Tea Tree Oil shampoo and a moisturising conditioner for hair and scalp.

The products also come in Lemon Myrtle edition, which as well as being moisturising, also has a beautiful, fresh lemon scent.

This is how you should use the products for the best results:

1. Scalp Serum

The Scalp Serum can be used daily if you are suffering from severe scalp problems. For most people it's enough to use scalp serum 2-3 times weekly, but this is very individual. Experiment and find the frequency which is better for you.

Distribute the product into the scalp by using the practical bottle. Make 3-5 stripes and distribute the product around the scalp by massaging thoroughly. Be especially attentive to the areas, where you experience dandruff, itch or dryness.

Allow the scalp serum to work for a minimum of 30 minutes, but preferably longer. If you can, you should allow the serum to work overnight, so that the product has plenty of time to work.

2. Shampoo with Tea Tree Oil

When the time comes for you to wash your hair, you could use our Tea Tree shampoo, which amongst other things works as an efficient dandruff shampoo.

Distribute the product into your wet hair and scalp by massaging in. We recommend, that you double rinse your hair, if you feel it's necessary. This is an especially good idea if you are using many styling products, or if you struggle with greasy hair and dandruff.

When you use the shampoo the second time, you will notice that there is more foam than the first time. This means that the active ingredients are better activated the second time, due to the hair being completely clean. You can use a scalp brush if you want to better stimulate your scalp by washing your hair.

3. Moisturising conditioner for hair and scalp

The nourishing conditioner with Tea Tree Oil and Lemon Myrtle provides plenty of moisture to the hair, so that it's left shiny, healthy and without electricity. If your scalp is very dry you can apply the conditioner to the scalp in order to add extra moisture.

Distribute the conditioner into the hair (and potentially scalp) and allow it to work for a few minutes, before rinsing off with lukewarm water.

The products can be used by any hair type and is also suitable for coloured or bleached hair.

Why should I choose the scalp care kit?

The 3 products are a smart solution if you are struggling with:

Dandruff, oily hair and irritated scalp
Pimples and impurities on the scalp
Dry and itchy scalp

The 3 products in the scalp care kit prevents scalp problems and helps you maintain a clean and healthy scalp. Tea Tree Oil and Lemon Myrtle work well together when it comes to preventing bacteria in the scalp, while the other ingredients moisturise, so that your hair and scalp stays healthy.

The Scalp care kit can also be used for care of psoriasis and eczema.

How does the scalp serum work?

The scalp serum is put together by unique and active ingredients, which help you achieve a healthier scalp.

The serum contains bacteria resistant Tea Tree Oil and lactic acid, which helps prevent dandruff and itch, while the oil from Macadamia nuts adds moisture, so that you no longer need to deal with a dry scalp.

When you apply the scalp serum to your scalp, it's a good idea to massage the product thoroughly into the skin, so that it's properly absorbed. A scalp massage also helps exfoliate the dry, irritated scalp and can have a positive effect on problems with dandruff. It might be helpful to use a scalp brush for these purposes.

You can use the scalp serum as often as you see needed. It can be used daily and is approved for use as a leave-in product. The scalp serum can also be used in a preventative manner, once or twice a week, if you are not currently experiencing scalp problems.

Scalp Serum can be applied to your beard if you experience dryness or irritation in this area.

Read more about scalp serum here.

Why should I use Tea Tree shampoo?

The shampoo in the kit has a deeply cleansing effect on the scalp, and can be used for a dry scalp, dandruff or pimples on the scalp.

Hair Clean shampoo works as an efficient dandruff shampoo, which is based on the natural active ingredient Tea Tree Oil – keeping the scalp healthy and balanced.

The Shampoo is also suitable for a dry scalp, as it contains coconut oil, which adds moisture to both the hair and the scalp.

Once your scalp is healthier, you can continue using the shampoo in a preventative manner. Most people experience an improvement in their scalp health and decrease in dandruff, itch and dryness by using the shampoo every time they wash they hair. The scalp serum can function as an intensive treatment once in a while.

Get more information about the shampoo here.

Why is conditioner with Tea Tree Oil and Lemon Myrtle efficient?
Conditioner is especially helpful if you have long, damaged hair or a very dry scalp. By regularly using the conditioner, you can prevent damaged, worn hair, as the shampoo will keep the hair moisturised and healthy.

Meanwhile the conditioner can be applied to the scalp, if it's quite dry. Distribute conditioner to the scalp, once you've rinsed with shampoo, and allow it to work for a few minutes. After this you can rinse the product out with lukewarm or cold water.

The conditioner contains many things, amongst other things Panthenol, which protects the strand of hair, while shea butter provides shine to the hair and leaves it soft and healthy.

Read more about the conditioner here.

Why do the scalp products contain Tea Tree Oil + Lemon Myrtle?

The products are based on the natural oil, Tea Tre Oil, which is efficient in problem solving skin care. Tea Tree Oil from the Australian tea trees are known for counteracting bacteria and maintaining a healthy skin, which makes the ingredient important, if you experience dandruff or itch in the scalp.

Lemon Myrtle is added, due to the ingredient being incredibly moisturising, which is important if you suffer from a dry scalp. With a high content of vitamin C, Lemon Myrtle also gives a beautiful glow to the hair and increases the effect of Tea Tree Oil's qualities, so that dandruff and dry skin can be prevented.

The unique combination of tea tree oil and lemon myrtle gives the product a beautiful and fresh lemon scent.

For more than 30 years we have developed problem solving skin care products, and all our ingredients are carefully selected by our experts and target specific skin problems.

What do I do, if the products don't work for me?

If you don't experience the efficiency of the products, you can use our satisfaction guarantee. You will always be covered by this guarantee, when shopping in our web shop.

Read more about the terms and conditions here.
David

Having been a long-term user of this product, we have no problem repurchasing and using it again. Fast delivery and at a competitive cost.

Susan

Australian Bodycare is my favorite! Now I don't use anything else. My skin is perfect for the first time in years! Thank you, Australian Bodycare!

Sarah

I've been using this company for years. Their products are of very high quality. The ordering process is straightforward, and the delivery is fast. I highly recommend them.

Mary

I love the products. I really value the small gifts. The customer service couldn't be better. Thanks to you all.

Elizabeth

Good products that live up to their promises with an incredibly good effect. My skin has never been better!

John

Excellent products. I've always liked tea tree and now there's such a wide range of products for everyone.

Michael

Brilliant products and fast delivery. I'm very impressed 🥳.

Emma

My skin feels great. I will definitely make this a permanent part of my skincare routine.

Karen

Very easy to order. Very efficient service. Always informed about the delivery. The service was excellent.

Helen

I love these products. I have very sensitive and reactive skin and have no issues with these products. I'm very happy.

Daniel

The products are absolutely excellent, they work perfectly, used once and everything is clear! Plus, they're better than chemical solutions.

Lisa

Excellent products, they really work well. The price is a bit high but so is the quality.
Frequently asked Questions
Hair clean lemon myrtle:
Aqua/Water, Sodium Laureth Sulfate, Glycerin, Cocamidopropyl Betaine, Melaleuca Alternifolia (Tea Tree) Leaf Oil, PEG-7 Glyceryl Cocoate, Glycol Distearate, C12-15 Pareth-12, Disodium Cocoamphodiacetate, PEG-4 Rapeseedamide, Phenoxyethanol, Coco-Glucoside, Citric Acid, PEG-120 Methyl Glucose Dioleate, Backhousia Citriodora (Lemon Myrtle) Leaf Oil, Sodium Benzoate, Potassium Sorbate, Hydrogenated Castor Oil, Guar Hydroxypropyltrimonium Chloride, Tocopherol, Tetrasodium Iminodisuccinate, Glyceryl Oleate, Benzoic Acid, Citral, Limonene, Geraniol.

Hair care lemon myrtle:
Aqua/Water, Cetearyl Alcohol, Caprylic/Capric Triglyceride, Glycerin, Shea Butter Ethyl Esters, Distearoylethyl Dimonium Chloride, Hydrolyzed Wheat Protein, Behentrimonium Methosulfate, Phenoxyethanol, Panthenol, Quaternium-87, Melaleuca Alternifolia (Tea Tree) Leaf Oil, Backhousia Citriodora (Lemon Myrtle) Leaf Oil, C12-15 Pareth-12, Allantoin, Caprylyl Glycol, Tocopherol, Tetrasodium Iminodisuccinate, Tasmannia Lanceolata Fruit Extract, Sodium Hydroxide, Pantolactone, Citral, Geraniol.

Scalp serum lemon myrtle:
Aqua/Water ,PEG-7 Glyceryl Cocoate ,Glycerin ,Sodium Caproyl/Lauroyl Lactylate ,Caprylic/Capric Triglyceride ,Melaleuca Alternifolia (Tea Tree) Leaf Oil ,Phenoxyethanol ,Carbomer ,Macadamia Ternifolia Seed Oil/Macadamia Integrifolia Seed Oil ,Sodium Hydroxide ,Xanthan Gum ,Backhousia Citriodora (Lemon Myrtle) Leaf Oil ,Beta-Caryophyllene ,Ethylhexylglycerin ,Allantoin ,Tetrasodium Iminodisuccinate ,Acrylates/C10-30 Alkyl Acrylate Crosspolymer ,Ethylhexylglycerin ,Tocopherol ,Menthol ,Tasmannia Lanceolata Fruit Extract ,Citral ,Limonene ,Geraniol ,Linalool.
The story of healing tea trees dates back thousands of years and it originates from the Aboriginal people of Australia. Their legends describe lakes surrounded by tea trees. Falling leaves and twigs from the tea trees leached their essential oils into the water and turned the lakes into antiseptic baths. The lolacl Aborigines used these natural, healing spas to treat a number of conditions, such as skin infection, burns, cuts and insect bites.

The healing benefits of tea trees were not officially registred until 1923. However, the local Aboriginal tribe, Bundjalung, had long understood the protective and healing powers of tea trees and used their crushed leaves to treat various wounds and skin infections. They named the land with tea trees "Healing Ground".

The products from Australian Bodycare contain natural, antiseptic Tea Tree Oil (Melaleuca Alternifolia). Tea Tree Oil has been known and used by Australian Aborigines for centuries because of its powerful antiseptic effects. Tea Tree Oil has been added to all Australian Bodycare Tea Tree Oil products in different concentrations, depending on which skin problem the products is developed to combat and where on the body it is to be used. Our product series is tailored for the entire family: It prevents and treats the most common skin problems—all while staying gentle on the skin.
Shipping and Satisfaction Guarantee

United Kingdom

Expedited & Standard shipping (1 - 2 days) - GBP 9.99. Free shipping on purchases over GBP 29.

Ireland

Standard shipping (2 - 3 days) - GBP 9.99. Free shipping on purchases over GBP 39.

We attach great importance to customer satisfaction and guarantee you the highest quality. Therefore, if within 100 days of receiving your products you are not satisfied, you can make use of the satisfaction guarantee.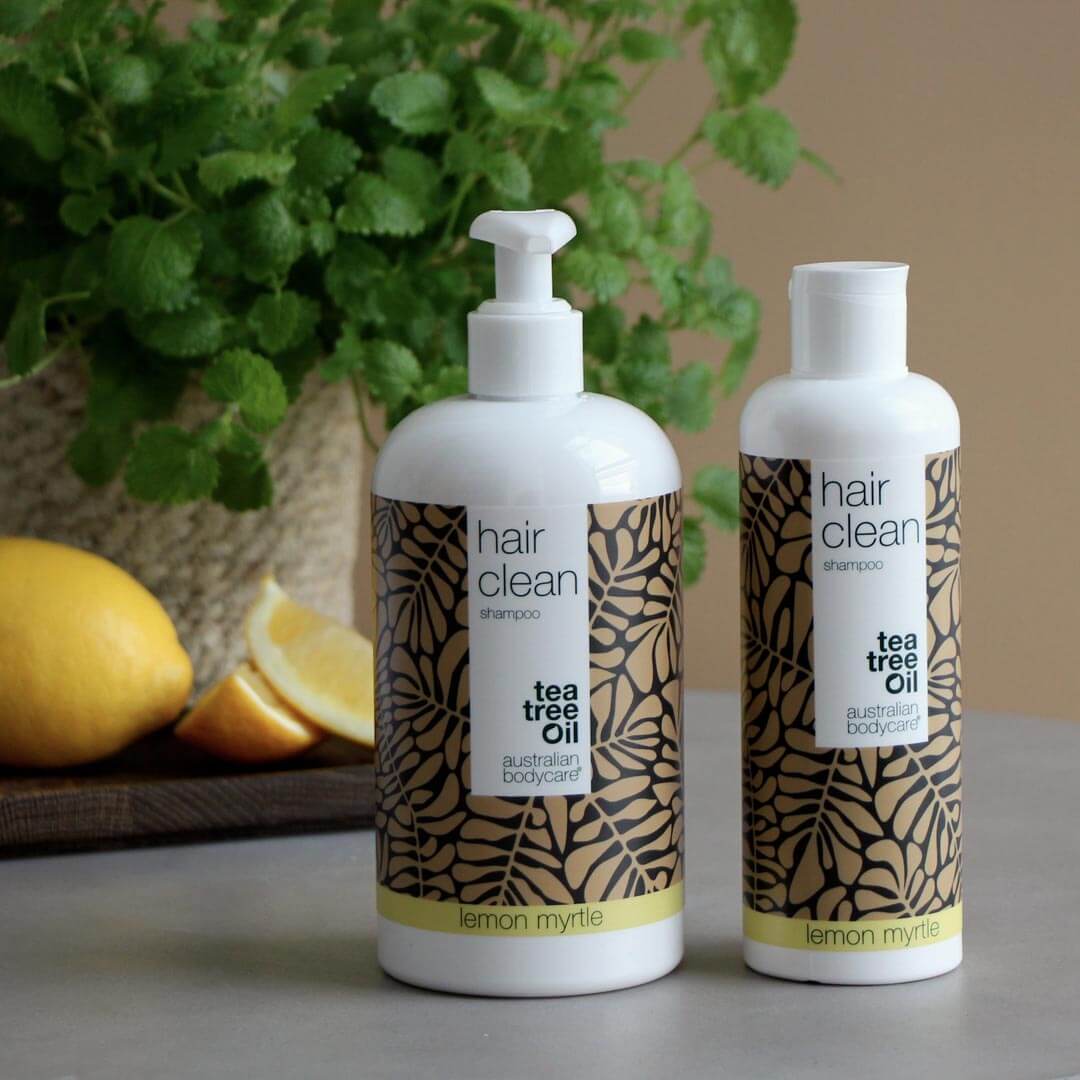 Why you should take care of your skin with Tea Tree Oil from Australian Bodycare
100% Natural

Discover the secret to radiant skin, Tea Tree Oil from Australia's rich flora, a treasure passed down by aboriginals. Sourced from the Melaleuca Alternifolia tree, our products boast the purest, pharmaceutical-grade Tea Tree Oil.

Heal

Harness the might of Tea Tree Oil for immaculate skin and hair. Celebrated for its unparalleled antibacterial and antifungal prowess, it balances the skin's bacterial flora. Every Australian Bodycare product is infused with the right concentration of Pure Tea Tree Oil for optimum results.

Maintain

Embrace daily care with Tea Tree Oil to combat skin issues and promote healthy skin. Engineered to curb unwanted bacterial and fungal growth, our dermatologically-tested formulations prioritize potent results without compromising skin safety.
We Care About Nature
We have partnered with Cool Earth in the conservation of 241,000 hectares of rainforest, protected by 31,000 people.
Read More Here
Join 50,000 others – follow us on Instagram