Skip to product information
Free shipping

Free shipping

Free shipping

Free shipping

Free shipping

Free shipping

Free shipping

Free shipping
3 products to care for sunburn, burning sensation and sun rash
Cooling and moisturising products with Tea Tree Oil for the care for sun damaged skin, sunburn, redness and irritation | Body Wash, Aloe Vera Gel and Anti Itch Spray to moisturise and relieve sunburn itch and burning sensation | Shower Gel and After-sun for daily skin care for sunburn and itching spray to relieve irritation | For all skin types.
The pack consists of Body Wash (500 ml), Moisturizing Aloe Vera Gel with Tea Tree Oil (200 ml) and Anti Itch Spray for itchy and irritated skin (100 ml).
Read more
Sale price
£34.99
Regular price
£39.99
Unit price
per
✓ Fast Delivery

✓ Free shipping on orders above £29

✓ Dermatologically tested

✓ 100% Money back guarantee
Our dealers
View full details
Have you been enjoying the sun a little too long? And your skin has become red, dry, and irritated? Then you might have sunburn.

In that case, your skin needs plenty of moisture and cooling products to minimize the itching, stinging and other irritation caused by sunburn.

The After-sun Pack with cooling and soothing shower gel, Aloe Vera gel and itching spray moisturizes and soothes irritated and sunburned skin and can be used to care for skin affected by sun eczema, stinging and redness.

How do I use the sunburn care products?

If you've had an accident and got a sunburn, your skin needs plenty of moisture and you need to cool down. That's why we recommend the After-sun Pack to care for your red and sensitive skin.

Body Wash - anti-itch and gentle shower gel

Body Wash with Tea Tree Oil effectively - but gently - cleanses your delicate and red skin if you've been sunburned. Tea Tree Oil is known to keep skin healthy while soothing itchy skin. The shower gel from the pack is therefore ideal if you've been sunburned.

Squeeze out an appropriate amount of soap and apply to wet skin. Massage in gently - even where you've been sunburned - and then rinse thoroughly. Finish your bath with cool water to cool the skin.

When you've finished washing, pat your skin dry and apply a good moisturiser to your body. Use the cooling Aloe Vera gel as a supplement on the skin areas where you have been sunburned.

Aloe Vera gel - cooling after-sun lotion

Apply the soothing Aloe Vera Gel with Tea Tree Oil several times a day, which provides enough moisture and soothes red and sun-damaged skin.

You can apply as many times a day as you need. If you like, store your Aloe Vera Gel in the fridge so it's nice and cool when you apply it.

You can use Aloe Vera Gel all over your body to cool and moisturize. The gel can also be used for daily moisturizing - even if you haven't got a sunburn.

Spray against itching - itching spray for the whole body

No matter where on your body you've been sunburned, your skin can become irritated, red, and itchy. It can be tempting to scratch your skin, but you should avoid this as it can lead to more skin problems.

Rub in Aloe Vera after-sun several times a day and top up with the anti-itch spray throughout the day. Anti-Itch Spray soothes and relieves irritated and sunburned skin and can be used several times a day as needed.

You spray directly on the area where you experience itching, redness or other irritation and give the product time to penetrate. You can also rub it in with your hands if you wish. The itching spray provides instant relief from itching and irritated skin.

Why does a sunburn occur?

Sunburns occur when your skin is exposed to the sun's UV rays without the necessary protection for too long. It is individual how tolerant your skin is to the sun's rays, but regardless it is always a good idea to use sunscreen and seek shade in the middle of the day when the sun's rays are strongest.

Sunburn is also known as sun inflammation and is therefore a form of inflammation of the skin when it has been sunburned. The symptoms of sunburns are therefore - as with many other types of inflammation - itching, stinging, redness, and a warm feeling in the skin. In the worst case, you may also experience swelling if you have been sunburned.

It is therefore a good idea to use products with Tea Tree Oil and Aloe Vera. Aloe Vera Gel infused with natural Tea Tree Oil acts as an effective after-sun lotion and has itchy, soothing, and cooling properties.

Why do I get a solar dermatitis?

Solar dermatitis occurs because you are extra sensitive to the sun's rays. For people who are very sensitive, sun dermatitis can be triggered by just a short period of exposure to sunlight. Sun dermatitis is experienced as an itchy rash accompanied by small blisters on the skin, which will often be red.

If you are affected by sun dermatitis, it is important to stay out of the sun completely until the eczema is gone. When you do go out in the sun again, protect your skin with a high factor sunscreen and avoid the very bright midday and afternoon sun.

As solar dermatitis often causes severe itching, it is important to relieve this, otherwise you risk scratching and further damaging already exposed skin.

Wash with Body Wash and slather with plenty of Aloe Vera Gel to soothe and resist the temptation to itch and scratch the sore skin. Spray several times a day - as often as you need - with the cooling and itching spray in the pack directly on the skin area that is stinging and irritated.

Why are products with Tea Tree Oil and Aloe Vera good for sunburned skin?

Both Tea Tree Oil and Aloe Vera have been used in skincare for many years, as the ingredients are known to ensure healthy and moisturised skin.

Aloe Vera consists of a wide range of vitamins, minerals, and amino acids, which ensure a beautiful and moisturized skin. Aloe Vera contains vitamins A, C and E as well as various B vitamins, all of which work together to promote beautiful, healthy skin.

Tea Tree Oil has been used in Australian medicine for over 1000 years for its antibacterial properties. This makes the oil suitable for a wide range of skin problems - including sunburn, which often causes itchy skin and irritation.

With the products in the after-sun pack, you'll benefit from the effective properties of both ingredients if you've been sunburned or if you've been affected by solar dermatitis.

What do I do if I am not satisfied?

If, against your expectations - the products don't help you soothe and care for your sunburn, you're covered by the satisfaction guarantee. The satisfaction guarantee applies to all orders from the Webshop.

In short, it means that if the products don't give you the results you want within 100 days, you can get your money back. Read more about the conditions and procedure here.
David

Having been a long-term user of this product, we have no problem repurchasing and using it again. Fast delivery and at a competitive cost.

Susan

Australian Bodycare is my favorite! Now I don't use anything else. My skin is perfect for the first time in years! Thank you, Australian Bodycare!

Sarah

I've been using this company for years. Their products are of very high quality. The ordering process is straightforward, and the delivery is fast. I highly recommend them.

Mary

I love the products. I really value the small gifts. The customer service couldn't be better. Thanks to you all.

Elizabeth

Good products that live up to their promises with an incredibly good effect. My skin has never been better!

John

Excellent products. I've always liked tea tree and now there's such a wide range of products for everyone.

Michael

Brilliant products and fast delivery. I'm very impressed 🥳.

Emma

My skin feels great. I will definitely make this a permanent part of my skincare routine.

Karen

Very easy to order. Very efficient service. Always informed about the delivery. The service was excellent.

Helen

I love these products. I have very sensitive and reactive skin and have no issues with these products. I'm very happy.

Daniel

The products are absolutely excellent, they work perfectly, used once and everything is clear! Plus, they're better than chemical solutions.

Lisa

Excellent products, they really work well. The price is a bit high but so is the quality.
Frequently asked Questions
Aloe Vera Gel
Aloe Barbadensis Leaf Juice, PEG-40 Hydrogenated Castor Oil, Xanthan Gum, Phenoxyethanol, Melaleuca Alternifolia (Tea Tree) Leaf Oil, Sodium Benzoate, Potassium Sorbate, Tocopherol, Limonene.

Body wash
Aqua/Water, Sodium Laureth Sulfate, Coco-Betaine, Melaleuca Alternifolia (Tea Tree) Leaf Oil, Sodium Chloride, Phenoxyethanol, Sodium Benzoate, Potassium Sorbate, Citric Acid, Tetrasodium Iminodisuccinate, Limonene, CI 75810/Chlorophyllin Copper-complex.

Anti Itch Spray
Aqua/Water, PEG-40 Hydrogenated Castor Oil, Polysorbate 60, Glycerin, 1,2-Hexanediol, Niacinamide, 4-Terpineol, Betaine, Hydroxyacetophenone, Melaleuca Alternifolia (Tea Tree) Leaf Oil, Sodium PCA, Sodium Lactate, Tasmannia Lanceolata Fruit Extract, Allantoin, PCA, Tocopherol, Serine, Alanine, Glycine, Glutamic Acid, Limonene, Lysine HCL, Threonine, Arginine.
The story of healing tea trees dates back thousands of years and it originates from the Aboriginal people of Australia. Their legends describe lakes surrounded by tea trees. Falling leaves and twigs from the tea trees leached their essential oils into the water and turned the lakes into antiseptic baths. The lolacl Aborigines used these natural, healing spas to treat a number of conditions, such as skin infection, burns, cuts and insect bites.

The healing benefits of tea trees were not officially registred until 1923. However, the local Aboriginal tribe, Bundjalung, had long understood the protective and healing powers of tea trees and used their crushed leaves to treat various wounds and skin infections. They named the land with tea trees "Healing Ground".

The products from Australian Bodycare contain natural, antiseptic Tea Tree Oil (Melaleuca Alternifolia). Tea Tree Oil has been known and used by Australian Aborigines for centuries because of its powerful antiseptic effects. Tea Tree Oil has been added to all Australian Bodycare Tea Tree Oil products in different concentrations, depending on which skin problem the products is developed to combat and where on the body it is to be used. Our product series is tailored for the entire family: It prevents and treats the most common skin problems—all while staying gentle on the skin.
Shipping and Satisfaction Guarantee

United Kingdom

Expedited & Standard shipping (1 - 2 days) - GBP 9.99. Free shipping on purchases over GBP 29.

Ireland

Standard shipping (2 - 3 days) - GBP 9.99. Free shipping on purchases over GBP 39.

We attach great importance to customer satisfaction and guarantee you the highest quality. Therefore, if within 100 days of receiving your products you are not satisfied, you can make use of the satisfaction guarantee.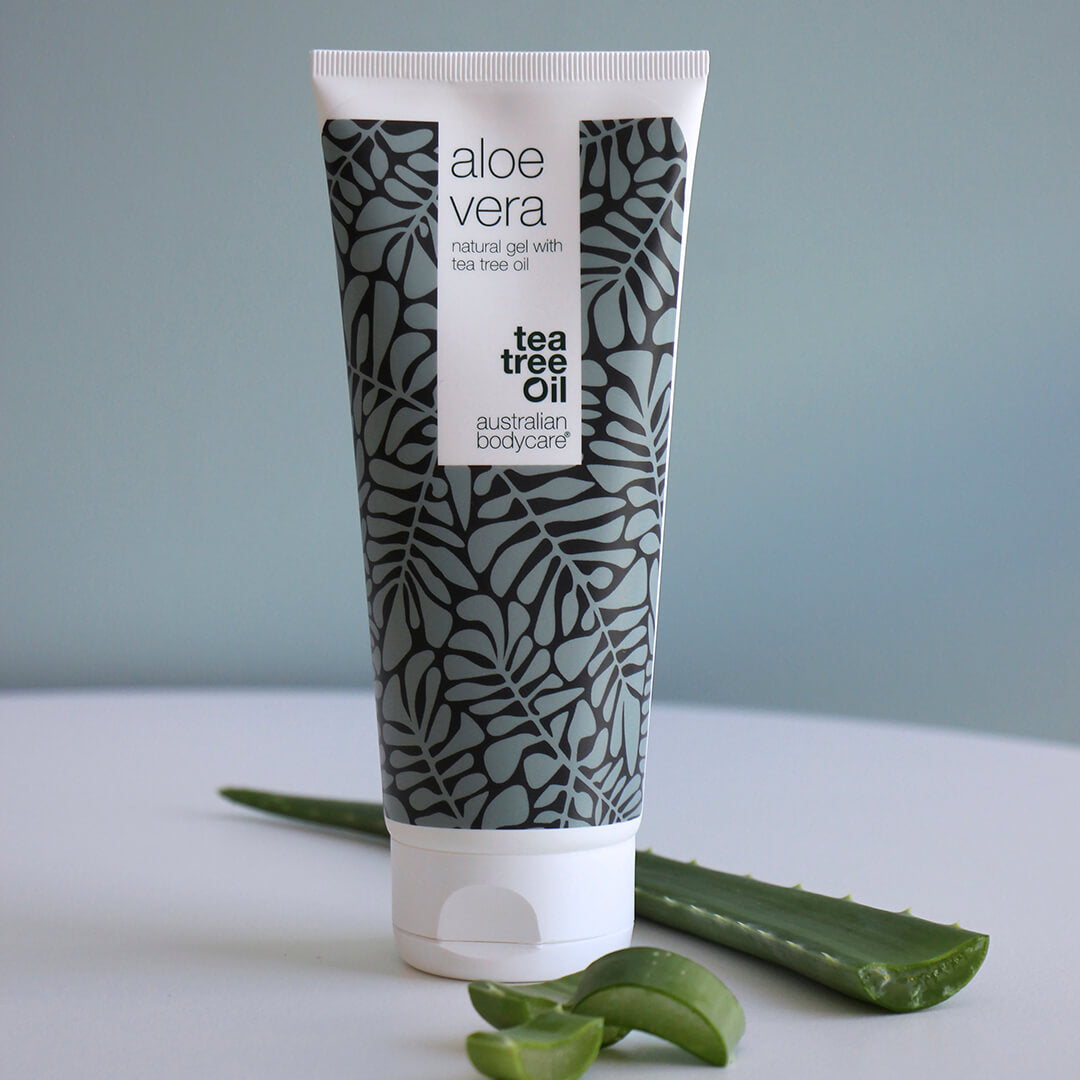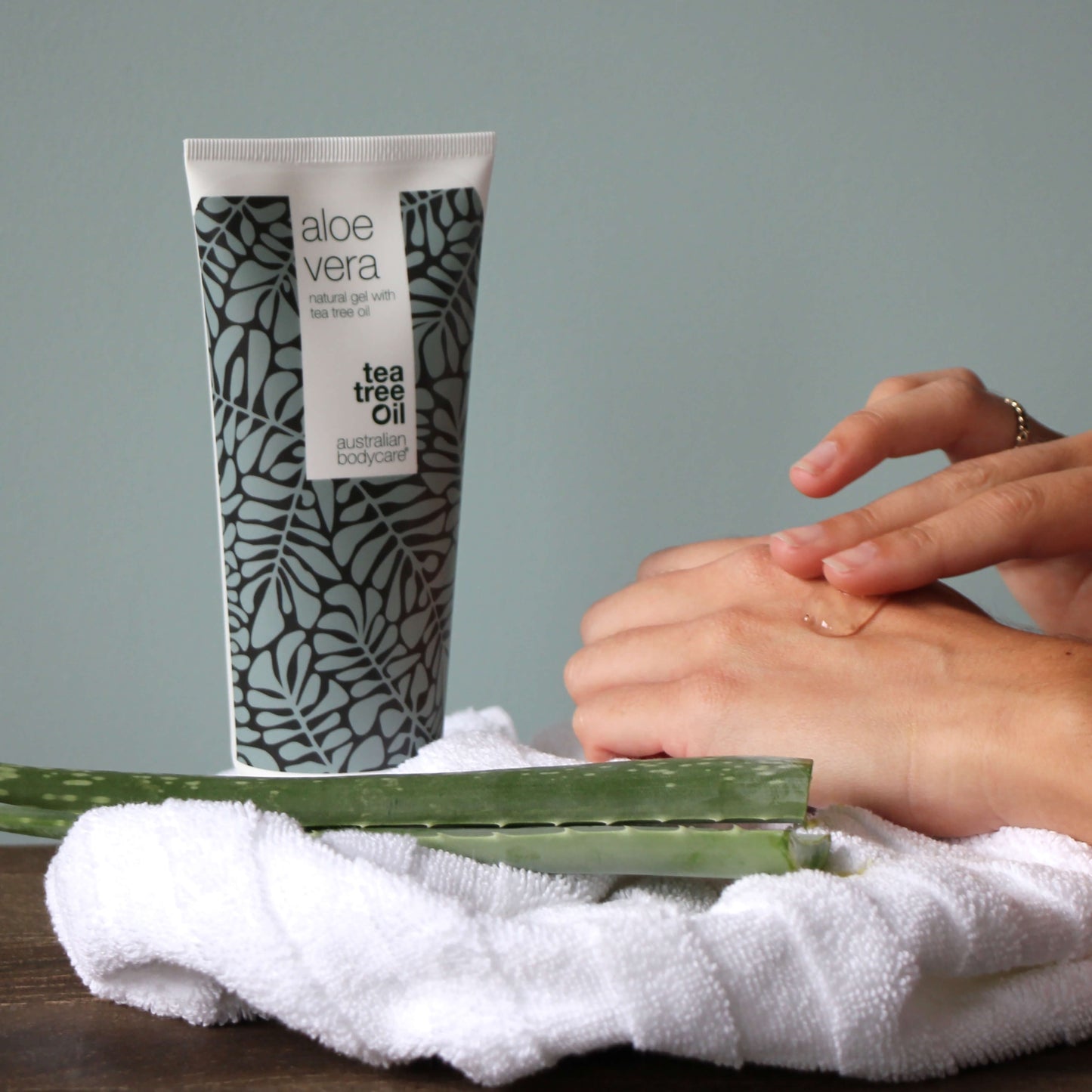 Why you should take care of your skin with Tea Tree Oil from Australian Bodycare
100% Natural

Discover the secret to radiant skin, Tea Tree Oil from Australia's rich flora, a treasure passed down by aboriginals. Sourced from the Melaleuca Alternifolia tree, our products boast the purest, pharmaceutical-grade Tea Tree Oil.

Heal

Harness the might of Tea Tree Oil for immaculate skin and hair. Celebrated for its unparalleled antibacterial and antifungal prowess, it balances the skin's bacterial flora. Every Australian Bodycare product is infused with the right concentration of Pure Tea Tree Oil for optimum results.

Maintain

Embrace daily care with Tea Tree Oil to combat skin issues and promote healthy skin. Engineered to curb unwanted bacterial and fungal growth, our dermatologically-tested formulations prioritize potent results without compromising skin safety.
We Care About Nature
We have partnered with Cool Earth in the conservation of 241,000 hectares of rainforest, protected by 31,000 people.
Read More Here
Join 50,000 others – follow us on Instagram